Fernando Almeida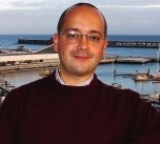 Currently working as project manager and Agile Evangelist at SATA, and promoting agile methodologies for both projects a current operations delivery.
Before coming to SATA worked as partner on a project management company, leading implementation of project management office for major companies and public institutes.
Started working as programmer during the last year of my course (computer engineering) in 1995, worked essentially in projects for finance and public administration markets until April 1998.
May 1998 I was sent to Oporto to open a new office, making near-shore software development for customers in Lisbon, and stayed there for 2 years.
In April 2001 was invited to return to Lisbon to lead a business unit for e-business at a Company called web-lab were a lead a team with full competencies from sales do deployment. By the end of 2001 We-Lab tried an IPO that failed and get bought by Portugal Telecom.
Between 2002 and 2005 worked for PT Information Systems, as member of PT Project Management office defining policies and practices for IT project at Portugal Telecom Group and supporting the project managers at their daily activity.
By October 2006 a left PT and joined a consulting company specialized at project management as invited Partner with the responsibility for the IT practices, and direct management of some of the company projects.
November 2009 joined SATA team as project manager and Agile Evangelist.
Sessions