Tiago Andrade e Silva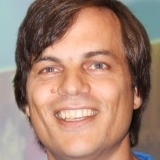 Tiago is currently Developer Evangelist at Microsoft Portugal. In the past 15 years Tiago has worked on the web development industry. Since 2003 he was the CTO of Fullsix Portugal, In this role he was responsible for the creation and management of the Engineering department (about 30 people), the company IT, overall project management and guidance. He was also a member of the Steering Committee.
Tiago also worked at OniWeb as board advisor but he started his career in 1996 as a developer at Tinta Invisível, the first web development company in Portugal, where he became partner and a member of the board.
Tiago is a regular speaker in local conferences and is an active driver of agile methodologies in Portugal. He was the founder of the ScrumPT and XAML PT user groups.
Tiago holds a Master in Computer Science (UNL) and Post-Graduations in Management of Tech Companies (UC). He is also a Project Management Professional (PMI), Certified Scrum Professional, Scrum Product Owner and Scrum Master.
Sessions