Jose Soria Teruel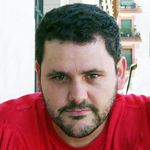 Jose Luis Soria has been for more than 15 years involved in software development, and has been working with agile practices and contributing to spread them for more than four years.
Nowadays he works as ALM Team Lead at Plain Concepts, where he promotes Scrum and Agile implementation projects and application lifecycle management activities at a great number of organizations.
He regularly takes part as a presenter in events like XP2011 Conference, Microsoft TechEd Middle East 2011, Agile Spain Conference 2010, Agile Open Spain 2009 and 2010, and Microsoft ALM Sessions 2009. He has published several articles in his blog, and in specialized publications like dotnetmania.com magazine.
He is a Professional Scrum Developer Trainer for Scrum.org, Professional Scrum Master, Certified Scrum Master and Microsoft Certified Technology Specialist on Team Foundation Server.
A fully detailed CV and profile can be found on linkedin.
More information about events and publications available at his blog, and on twitter.
Sessions